How to Build an Email List!
Updated: Feb 11, 2020
So you know you need an email list, but do you know why?
The most common reasons are:
To build your company on more solid ground...meaning that if Social Media is your top way of communicating with your clients, you could lose everything if that went away overnight.

Almost FREE advertising. Just pay for the email software, some of which are also free at first!

Talking to an already warmed up and interested group of leads, these people already want to know more.

It's your forum to be you and share what you want!
This goes for any size business. The sooner you start building and growing this list the better. Think about all the emails you get. If you are a shopper like me, everyone from Target to Sephora to Nordstrom might pop into your inbox with updates, sales and more. As a society we are used to this, and it's effective. We all want more value and the more we see a company in front of our faces, the more we shop there.
But many ask, how do we get those email lists? I am here with a suggestion that can help! It's called Lead Magnet or even quite commonly referred to as "freebies". Depending on the type of business you run, this can consist of a coupon type discount for shopping, a guide, e-book, quiz or anything enticing and of value that prompts someone to want to hear more from you. Speaking of which, here are 5 Ways to Start Your Email List, freebie from me!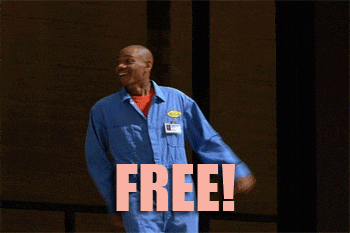 So you make a freebie. Now is where you get it out into the world. Go ahead and start promoting it on Social Media. Drop it into groups, online forums and all over your Instagram/ LinkedIn/Facebook. Promote it! You made something amazing that people want, give it out like candy! This freebie link should be connected to an online landing page with a subscriber opt-in form, for legal reasons where you capture their email in exchange for the free offer. Make sure to have your emails set up to send them a nice thank you note afterward and it's best when the freebie arrives immediately or they have access right away.
From here you can make sure your email software sets them up to be put right into your email sequences. They can either be set up to get your first set of welcome emails that everyone on your list gets or go right to your newsletter style updates weekly with everyone else. Or both! And keep making new Lead Magnets along the way to attract more new people and keep those who follow you receiving tons of value from you.
This is the way you start to build an awesome email list, and don't worry... even if you just have 1 or 20 people initially, treat them each like they are the most important client to you at the moment. That will serve you well when you have a much larger list and you can still feel that way about each and every person who supports you.
What should your emails include?
Welcome sequence should include your story, why and how you serve your clients.

Value, value value. Include more free tips and tricks.

Updates on releases, how to join you on social media and more ways to connect.

Gratitude for their support!
Have fun building your Lead Magnet and Email List! Follow me on Instagram for more digital marketing tips and reach out in my DMs anytime with questions.
Thanks for reading!
XOXO,
Charlese | Girl at the Yellow Desk
PS: Pro Tip
I use MailChimp for my Landing Pages, but currently use Flodesk for my email sequences. They are beautiful and easy to use. If you would like to try Flodesk for free and get 50% off your subscription for life use my link here.